VIETNAM - JAPAN RELATIONSHIP
In recent years, the Viet Nam - Japan bilateral relations have witnessed robust developments across a range of areas. Japan is now one of the leading economic partners of Viet Nam, the largest ODA donor, the second largest investor, the third largest tourism partner, and the fourth largest trading partner of Viet Nam.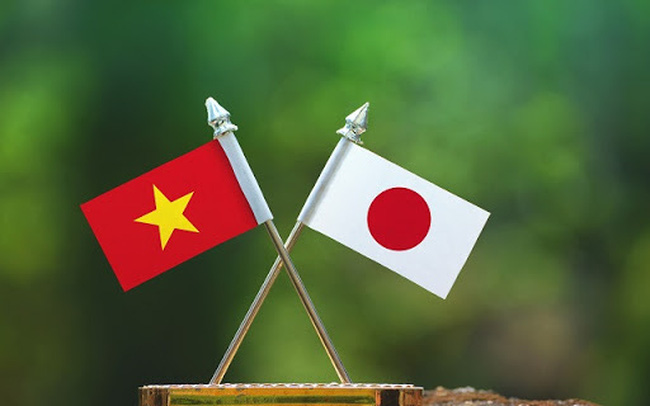 Establishment of diplomatic relations: September 21, 1973
Framework of relations: Extensive Strategic Partnership for Peace and Prosperity in Asia (established in March 2014 during President Truong Tan Sang's state visit to Japan).
Exchange of visits:
The two countries now enjoy the most flourishing relations with strong mutual trust since the establishment of diplomatic relations. High-level leaders of the two countries maintain regular exchange of visits and contacts at international and regional forums.
Japanese leaders' visits to Viet Nam: Japanese Prime Minister Suga Yoshihide chose Viet Nam for his first overseas trip after taking office (October 10, 2020). Prime Minister Shinzo Abe visited Viet Nam four times (November 2006, January 2013, January 2017 and November 2017). The Speaker of the House of Representatives visited Viet Nam in January 2002 and May 2017. The President of the House of Councillors Yamazaki visited Viet Nam in December 2015.
Crown Prince Naruhito (now the Reigning Emperor) paid an official visit to Viet Nam in February 2009. Emperor Akihito (abdicated, now Emperor Emeritus), also paid a visit to Viet Nam (February 28 - March 5, 2017). Prince Akishino paid an official visit to Viet Nam in June 1999 and a personal visit in August 2012.
Vietnamese leaders' visits to Japan: The Party General Secretary of Viet Nam paid 4 visits to Japan. The President paid 3 visits, the Prime Minister paid 19 visits and the President of the National Assembly paid 4 visits to Japan.
Important cooperation mechanisms:
The Viet Nam – Japan Cooperation Committee co-chaired by the two Foreign Ministers (established in 2007, 11 meetings convened); The Viet Nam – Japan Strategic Partnership Dialogue on diplomacy - security - defense at the Deputy Foreign Ministers' level (established in 2010, 7 meetings convened); the Viet Nam - Japan Defense Policy Dialogue at Deputy Ministerial level (established in November 2012, 7 meetings convened); the Security Dialogue at Deputy Ministerial level (established November 2013, 6 meetings convened), the Viet Nam-Japan Joint Committee on Cooperation in Industry, Trade and Energy (established in 2014, 3 meetings convened); the Viet Nam – Japan Agricultural Cooperation Dialogue (established 2014, 5 meetings convened) and the Viet Nam - Japan Maritime Policy Dialogue at the ministerial level (established in December 2019).
Consular cooperation: Japan established the Consulate General of Japan in Ho Chi Minh City and a Consular Office in Da Nang (January 2020). Viet Nam established the Consulate General of Viet Nam in Osaka (March 1997) and Fukuoka (April 2009); appointed two Honorary Consul Generals in Nagoya city (Aichi) and Kushiro city (Hokkaido) (June 2010).
Since January 1, 2004, Viet Nam has implemented the unilateral 15 day-visa waiver for Japanese nationals entering Viet Nam for travel and business purposes. And since July 1, 2004, Viet Nam has implemented the short-term visa waiver for all Japanese passport holders. On March 8, 2005, the two sides exchanged Diplomatic Notes on the reciprocal waiver of visa requirements for holders of diplomatic and official passports with the duration of stay not exceeding 90 days (in effect since May 1, 2005).
Japan began to relax its regulations on multiple-entry visas issuance (from September 30, 2014, with greater relaxation from February 15, 2016) and single-entry visas (from November 20, 2014) for Vietnamese citizens. Japan has also simplified procedures on short-stay visa application for officials and civil servants of state agencies, employees of private enterprises, intellectuals and cultural experts from March 1, 2019.
Cooperation between the localities of both sides has been actively promoted. Vietnamese and Japanese localities have signed approximately 70  documents of cooperation, notably those between: Ho Chi Minh City and Osaka (2007), Ho Chi Minh City and Nagano (2017); Hanoi and Fukuoka (2008), Hanoi and Tokyo (2013); Da Nang and Sakai (2009), Da Nang and Yokohama (2013); Phu Tho and Nara (2014); Hue and Kyoto (2014); Hung Yen and Kanagawa (2015); and Hai Phong and Niigata (2015).
 Cooperation in Covid-19 prevention and control:
Since the beginning of 2020, the outbreak of the COVID-19 pandemic has left its impact on the Viet Nam - Japan Extensive Strategic Partnership in many areas. The two countries had to cancel and postpone a number of diplomatic activities, notably the official visit to Japan by President of the National Assembly Nguyen Thi Kim Ngan (expected to take place from March 15 to 20, 2020), and the visit by Permanent Member of the Secretariat of the Communist Party of Viet Nam Tran Quoc Vuong (expected at the end of April 2020). The visit by a Deputy Prime Minister to attend the International Conference on the Future of Asia (expected at the end of May 2020), other meetings between high-level leaders of Viet Nam and Japanese partners, cultural and sports exchange activities in both countries, and working visits by delegations of Vietnamese Ministries, agencies and local authorities to Japan were all cancelled. Labor cooperation and tourism were also severely affected.
However, the two countries still maintain exchanges at all levels, especially high-level ones, under various formats. The two sides coordinated positions at the Special ASEAN +3 Summit on COVID-19 (April 14, 2020). The Government and National Assembly of Viet Nam gifted a total of 1,190,000 medical masks and 20,000 cloth masks to Japan. The Japanese Government has donated 1 million doses of AstraZenecca vaccine to Viet Nam (June 15, 2021), and provided medical equipment and other supplies via bilateral channel and international organizations. Some Vietnamese localities have actively supported Japan in COVID-19 response. Viet Nam has also facilitated the working visits of more than 4,000 Japanese experts and business leaders to Viet Nam for work, and received over 26,000 Vietnamese citizens stranded in Japan back to Viet Nam./.
(June 2021)