OVERVIEW OF THE VIETNAM-JAPAN
SCIENCE AND TECHNOLOGY COOPERATION 
Since their establishment on September 21, 1973, the diplomatic ties between Viet Nam and Japan have been constantly and rapidly strengthened and expanded in many areas, especially in science and technology (S&T). The bilateral agreement on S&T Cooperation between Viet Nam and Japan was signed in August 2006, creating an environment conducive to greater collaboration and exchange of information among S&T organizations and scientists. To date, four Joint Committee Meetings on S&T Cooperation have been held to discuss various fields of cooperation and deepen bilateral cooperation in S&T in areas such as high-tech agriculture. new energy, environmental solutions to climate change, new material technology (including nano), application of biotechnology in herbal medicine and life sciences.
In addition, the MOU on S&T cooperation between the Vietnamese Ministry of Science and Technology and the Japan Society for the Promotion of Science (JSPS), signed on June 1, 2012, has established a solid framework to promote and support collaboration between Vietnamese and Japanese scientists in social sciences, humanities and natural sciences.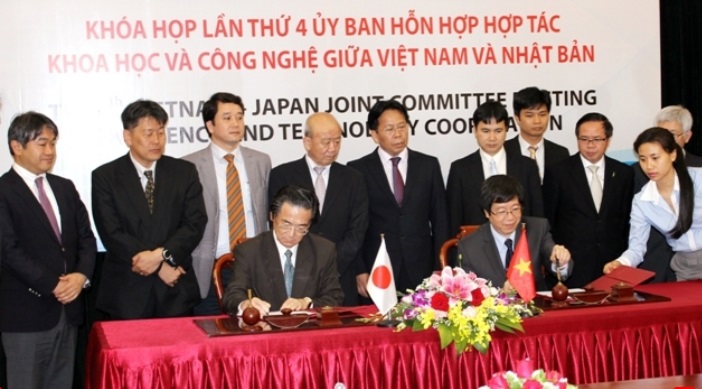 MOU signing ceremony at the 4th session of the Joint Committee on Science and Technology Cooperation between Vietnam and Japan (March 2015)
1. Cooperation in Infrastructure Development Project of Hoa Lac Hi-Tech Park (HHTP)
The Infrastructure Development Project of HHTP, funded by the Japanese Government's ODA grant of 28.083 billion JPY, provides a coherent and modern infrastructure system for long-term investment in high tech areas. Japan has also assisted in training and testing IT personnel in accordance with the Japanese skill requirements, provided investment promotion training, and supported the promotion of investment from Japanese enterprises in HHTP.
Currently, a number of foreign enterprises have invested in HHTP. These include NIDEC Group with planned investment in 05 projects on an area of ​​about 25 hectares, and Nissan Techno Corporation's investment in a R&D center for automobile engines.
2. Cooperation in Intellectual Property (IP)
The MOU signed between the National Office of Intellectual Property (NOIP) of Viet Nam and the Japan Patent Office (JPO) in October 2014 has paved the way for the sharing of experience on regulations and application of relevant laws with the aim of improving the IP legal framework. Furthermore, the two agencies have collaborated in organizing IP training courses in Viet Nam and Japan for Vietnamese officials, IP conferences and seminars targeted at different audiences, such as in universities, research institutes, enterprises and IP rights enforcement agencies, in order to raise awareness of IP. The two agencies have also exchanged official information on IP-related matters to facilitate information search and usage.
In addition, NOIP has signed the MOC on Geographical Indications with the Food Industry Affairs Bureau of Japan (FIAB) on June 2, 2017. After the signing, NOIP has issued certificates of geographical indications for a number of Japanese products, including Kagoshima Wagyu beef (December 25, 2012) and Ichidagaki dried persimmon, and is considering the geographical indication application of Miyagi salmon. In return, the FIAB has granted the certificate of geographical indication for Luc Ngan lychee (March 12, 2021) and is considering the certification of geographical indication for Binh Thuan dragon fruit and Buon Ma Thuot coffee.
3. Cooperation in space industry:
The Viet Nam Space Center Project is of great significance, with a total investment of 54 billion JPY financed by Japanese Government and Viet Nam's counterpart fund. The Project is composed of three areas: technical infrastructure and equipment, technology transfer, and capacity building in space technology. Regarding technical infrastructure and equipment, investment is made in the construction of the Satellite Assembly, Integration and Test (AIT) Center, Ground station, Research & Development (R&D) Center, Public Education Center, Control Center, Space Museum and Observatory. Japanese experts will also transfer related technologies and assist Viet Nam in self-manufacturing two small Synthetic Aperture Radar (SAR), high-resolution satellites for earth observation and in the application of satellite image data.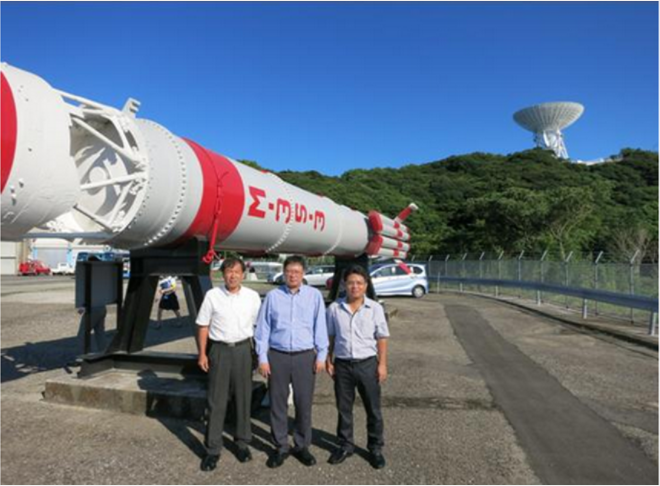 Scientists from the Vietnam Academy of Science and Technology at the Space Center Kagoshima (Japan)
4. Cooperation in atomic energy, nuclear radiation safety
Viet Nam and Japan signed the Agreement for Cooperation in the Development and Peaceful Uses of Nuclear Energy signed on January 20, 2011. Accordingly, Japan has provided support in training Vietnamese officials on nuclear safety and formulating legal normative documents on Viet Nam's nuclear power program.
5. Cooperation in the field of standards, measurement, quality
Under the MOC between the Directorate for Standards, Metrology and Quality (STAMEQ) and Japan Industrial Standards Committee (JISC), JISC has assisted STAMEQ in building human resource training programs and promoting the exchange of experts in standards and conformity assessment.
6. Cooperation with Kansai region:
There is great potential for cooperation between the Kansai region and Viet Nam, especially in education, training, and joint research projects. Many universities in the Kansai region (such as Osaka University, Kyoto University) have admitted Vietnamese doctoral students in various programs, including agriculture, new materials, automation, and environment. In particular, Osaka University and Viet Nam Academy of Science and Technology signed a cooperation agreement on training and research. Good progress has been made in the implementation of joint research projects such as the project on "Multi-beneficial Measure for Mitigation of Climate Change in Viet Nam and Indochina Countries by Development of Biomass Energy".
On cooperation among localities, Da Nang city (Viet Nam) and Sakai City (Osaka) have signed a MOU under which Sakai will assist Da Nang in human resource training in IT and share experiences in environmental management. In the private sector, despite the tremendous potential for cooperation in science and technology between SMEs of both countries, the actual results have been modest so far./.
(June 2021)